My name is Robert Ryan and I like to repair watches. Probably my earliest watch memory is of finding what I now know was a chronograph in the alley behind my house when I was nine or ten. I also now know that the pallet must have been broken or missing because when you wound it, the hands just spun. I really wish I still had that broken watch.
I had a few memorable watches while I was growing up. There was an automatic Timex that made a great winding sound when you twisted your wrist and an LCD watch I wore all through high school. When I was in my thirties I asked my dad to get me a vintage watch for Christmas one year.  He found two for me, a Bulova and an Elgin, at a pawn shop.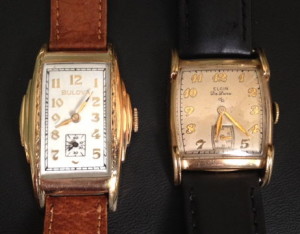 Eventually I stopped wearing a watch, even before we all had a phone with us everywhere we went. The one exception was when I started racing sailboats. I bought myself a cheap Casio yacht timer that did the job for many years, until I retired (burned out) on racing.
Then around 2005 I accepted an invitation to race on a friend's boat. I dug out the old Casio and, even with a fresh battery, it didn't work. So I got on eBay and started looking for a new one. It was there I came across a rather battered mechanical yacht timer.  I think I paid $20 for it. When the timer arrived I discovered the it wouldn't run for more than about a minute and the crystal wouldn't stay on.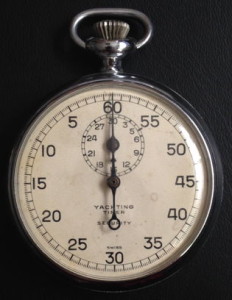 But I had seen an evening class offered by a local community college on watch repair. I thought I would attend the ten week course and repair my yacht timer. Ten years later, I am still learning from the Swiss trained watchmaker who teaches those classes and the many friends I made who repair watches as a profession or a hobby.
Over the years I've worked on tens if not hundreds of watches. That first yacht timer lead to an interest in timers, also known as stopwatches, and chronographs, watches that show the time and have a timing function. I also found that I really enjoy bringing "junk" watches back to life. I have a number of watches, many given to me, that I have been able to restore that would otherwise have ended up in the back of a drawer or in the trash.
Its this latter interest that lead me to start making wristwatches out of pocket watches. There are thousands of high quality pocket watches out there that are never used because, well, no one carries a pocket watch any more. And while there are also fewer people wearing wrist watches, there is demand for quality mechanical watches. So I thought I would give it a try, and in the process learn more about watchmaking and maybe share some of that knowledge with other enthusiasts.