I had some free time while waiting for parts for other projects so I thought I would get this Waltham timer up and running. I am not sure where this came from but was not running and the hands had a bit of rust. Never a good sign.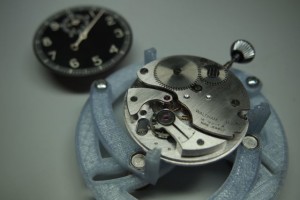 This is a military timer, usually referred to as a bomb timer, though I don't know anything about how they were used. It does not appear in the 1940 Waltham material catalog but is there in 1958. Based on the serial number and the 1958 catalog it was produced some time between 1942 and 1945. So it was likely made for use in World War II.
What makes these fun is the very high beat rate, hence the name jitterbug. A typical watch ticks 5 times a second but this one ticks 30 times a second. The fastest models were 1/100 second frequency! Take a look at how this one ran after it was cleaned and a new mainspring installed.
The hands had some surface rust but I chose to just clean them up a bit and not repaint them. I won't replace the slightly yellowed crystal. Who knows where the watch has been. I want to keep it as original as possible.