Well it's been about six months but I finally completed my Valjoux Caliber 71 watch "kit". As I described here, late last summer I picked up a very nice chronograph that was partially disassembled and had been bouncing around in a peanut can for many years.
The watch dial is marked Wittnauer but, while this company did make some of its own movements, this one uses the manual wind Valjoux 71. The 71 is a relatively large 14 ligne movement. It is based on the Valjoux 22, with the addition of the hour register at the 6 o'clock position. This movement also found its way into many other brands including Heuer (as the Reference 345) in the 40's and 50's.
For those who may not have used them, I must say the Esembl-O-Graf books are an invaluable resource. There are 28 books in the series, with each book covering a single caliber. All but a few are dedicated to chronographs. For each major part of the chronograph there are two pages containing a verbal description for removing and installing the part along with a diagram. A friend lent me his hard copy of volume 13, which covers the Valjoux 71, and it made sorting out the parts and servicing the watch much easier.
In the end I replaced the mainspring, one of the hour wheel friction springs, a pusher spring and several screws. I was also lucky enough to find a replacement intermediate hour yoke spring. After cleaning and reassembling I then took the entire chrono portion of the watch apart again for a class. And I lost count of how many times I installed and removed the hands for various reasons!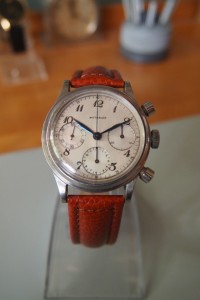 The watch runs great and keeps excellent time. After some adjusting all the chronograph functions work as they should. This is really a wonderful timepiece. I am glad I was able to bring out of the peanut can and back to life.